A local solution to maximize your FDIC deposit coverage. 
Insured Cash Sweep (ICS) accounts allow you to manage all your liquid funds from one bank, while maintaining FDIC coverage for balances over $250,000.
Get Peace of Mind for Large Cash Balances with ICS 
Using ICS,®  or Insured Cash Sweep, you can access millions in FDIC insurance for cash deposits from IntraFi® network banks and enjoy the simplicity of banking with just one trusted, local institution. Conveniently and easily secure funds placed into demand deposit accounts or money market deposit accounts.

How it can work for you.
When you have deposits at a single bank in a single ownership capacity, then you have access up to $250,000 in FDIC insurance at that bank. By using services from Frontier Bank, partnered with IntraFi® you can access multi-million-dollar FDIC protection through a single bank relationship.
Frontier Bank is a member of the IntraFi network. When you submit funds for placement through Frontier using ICS, that deposit is divided into amounts under the standard FDIC insurance maximum of $250,000 and placed in deposit accounts at other network banks. You can choose to have funds placed in demand deposit accounts (using the demand option) or money market deposit accounts (using the savings option). With your funds placed in amounts below $250,000, you can rest assured that both principal and interest are eligible for FDIC insurance.
By working directly with Frontier Bank you can access FDIC coverage from many other financial institutions. And, you can enjoy the convenience of transparent, detailed reporting and the ease of receiving periodic statements from your bank.
Support more lending in your local community or in underserved areas.
When your funds are placed through ICS, you are not just receiving crucial protections — you're also keeping the full amount of your deposits local to help fund lending in the community.
Flexibility.
Multiple liquidity options put you in control. Enjoy access to funds placed through ICS into demand deposit accounts and money market deposit accounts. 
Transparency and detailed reporting.
Feel confident knowing where your funds are at all times, and save time with detailed reporting provided from Frontier Bank.
Safety for your cash in any market environment.
Earn returns and keep your cash protected through economic ups and downs with access to millions in FDIC insurance. No one has ever lost a penny of FDIC-insured funds. In addition, with ICS, your funds aren't subject to floating net asset values that can lead to loss of principal and erase returns.
A tested, trusted solution.
Depositors of all types, including businesses, nonprofits, government entities, fiduciaries, individuals, and socially responsible investors collectively, place billions of dollars through ICS. And thousands of banks across the nation are part of IntraFi's network of banks and financial institutions.
Want to speak to an expert or learn more about ICS at Frontier Bank?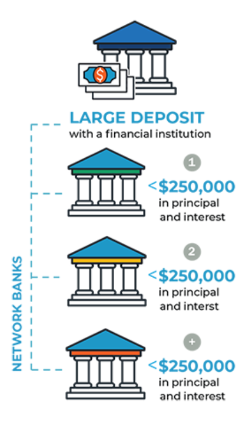 5 easy steps to get started.
1. You sign a DPA (Deposit Placement Agreement) and a custodial agreement.
2. With the demand and savings products, you identify an existing transaction account (or set up a new one) to be used with each option chosen. 
3. Funds are placed into deposit accounts at other network institutions in accordance with the applicable DPA.
4. Enjoy transparent, detailed reporting. With the demand and savings products, you can check balances and see where funds are at all times using easily accessible online tools. 
5. Receive one periodic statement from your bank detailing activity.